This Issue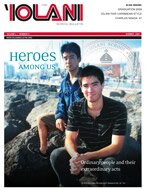 Ordinary people and their extraordinary acts
Read the full story »
Summer 2009 - Other News
| Alumni
Japan-based Alumni Gather for Golf
'Iolani alumni in Japan, dubbed 'Iolani Alumni Gumi (Group), held its first 'Iolani Alumni Golf Tournament on April 29 on "Showa no Hi," a national holiday. Ten alumni teed off at the beautiful Kanagawa Country Club in the countryside of Kanagawa Prefecture, west of Tokyo.
Enjoying a day of golf in Japan were: back row, Yutaka DeSilva, Greg Nakajo '94, Paul Iguchi '86, Frank Song '80, Micah Sadoyama '98; front fow: Takeshi Yamazaki '86, Mitzi Ing '00, Kyle Nakamura '04, John Oki '73, Miki Kurokawa '92.
Golf in Japan is a unique experience, and playing at Kanagawa Country Club was no exception. The three teams enjoyed automatic golf carts, moving walkways that took players up steep hills, lunch after the first 9 holes, and an onsen bath after a long day of playing 18 holes at a par 71 course. Sakura (cherry blossom) trees were still in bloom and it was green as far as the eye could see, a great getaway from the concrete jungle of Tokyo.
The purpose of the event was to promote 'Iolani's No Ka 'Oi spirit and camaraderie through sport. Jokes, laughter, conversations, new friendships, and the occasional "Watch Out!" all took place.
Although scores were tallied, cards were not collected to determine a winning team - a fitting end to the beginning of the 'Iolani Alumni Gumi's annual golf tournament.
Special thanks to
Mike Moses
'93,
Dale Sakata
'84, and an anonymous alumnus in Japan, who graciously donated $500 for the tournament.