This Issue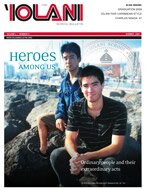 Ordinary people and their extraordinary acts
Read the full story »
Summer 2009 - Other News
| Alumni
Chicago Reunion: Honoring Dr. Val T. Iwashita for service to National Association of Independent Schools
Val T. Iwashita
was recently honored by the Board of Trustees of the National Association of Independent Schools (NAIS) and by the Board of Governors of 'Iolani School for his dedicated service to the NAIS and 'Iolani boards.
Dr. Iwashita recently completed his term as Chairman of the Board for NAIS while presiding over the 2009 NAIS Annual Conference at the McCormick Convention Center in Chicago. He has served on the board of NAIS since 1998 and was a member of its executive committee since 2000, adding the chairmanship to his duties in 2006.
"As board chair for the past three years, Val has led the board and organization valiantly through two of our most important undertakings in the last decade, our strategic planning that produced a compelling vision for the future and our transition to a new operation for our financial aid services," said NAIS President
Pat Bassett
.
Chairman of the 'Iolani Board of Governors James Kawashima '60, right, presents a proclamation to Headmaster Dr. Val Iwashita '67, center, with Cynthia Iwashita, left.
See more photos »
The conference was attended by heads and trustees of independent schools from around the world, including several members of the 'Iolani Board of Governors. The conference included meetings and sessions, along with keynote speeches by media giant
Oprah Winfrey
and author and venture capitalist
Guy Kawasaki
'72.
Coinciding with the NAIS conference, an 'Iolani Chicago-area reunion was held at the Hyatt Regency Chicago on February 27 with more than 40 people attending. Graduates ranged from the Classes of 1961 to 2008. At the reunion, Dr. Iwashita delivered remarks that described 'Iolani's strengths, accomplishments and One Team spirit.
Chairman of the 'Iolani Board of Governors
James Kawashima
'60 then presented Dr. Iwashita with a proclamation from the school's board.
"The Board of Governors of 'Iolani School congratulates Dr. Val Iwashita for his national service to independent schools of the United States and thanks him for his service to 'lolani School and the honor he has brought to the institution," the proclamation stated.
Headmaster Dr.