This Issue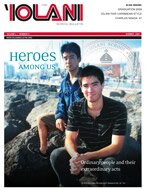 Ordinary people and their extraordinary acts
Read the full story »
Summer 2009 - Other News
| Alumni
Alumni Association holds Economics Panel
More than 200 guests, hoping to gain a better understanding of the local and national economic situation, attended the 'Iolani Alumni Association presention "The Economy and You: Where Are We? How Did We Get Here? The Future?" held in Seto Hall on April 1.
Tom Campbell '61, Rob Saracco, Ash Matar, Sherri Iha '84, Dick Rankin, Paul Brewbaker, and Guy Kamitaki '73 were part of the Alumni Association's economics panel.
The evening event featured panelists
Paul Brewbaker
, senior economic advisor to Bank of Hawaii;
Robert Saracco
, first vice president of Merrill Lynch; and
Ash Matar
, chief executive officer of VIP Transportation. The panelists shared their perspectives in an engaging discussion moderated by 'Iolani economics teacher, Colonel
Dick Rankin
.
Brewbaker traced the history of the current downturn on both a national and local level, while offering an optimistic outlook for the future. Saracco offered advice on investment strategy during the crisis, while Matar focused on small business owners who may be coping with fear and anxiety.
Several 'Iolani economics students added insight to the question and answer session. .
Special thanks go to Col. Rankin for assistance in organizing the event, as well as to the guest panelists. Also, thanks to 'Iolani Alumni Association Board members
Guy Kamitaki
'73 and
Tom Campbell
'61 for planning the event.