This Issue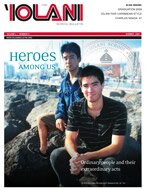 Ordinary people and their extraordinary acts
Read the full story »
Summer 2009 - Other News
| Alumni
IMARA tours U.S. Capitol
This past spring, the 'Iolani Mid-Atlantic Regional Alumni (IMARA) group celebrated its fifth anniversary with a tour of the United States Capitol followed by a luncheon.
Standing before the King Kamehameha statue in the U.S. Capitol were Wade Ishimoto '59, Jenny Hilscher '89, Alyssa Ellis '00, Craig Nakamatsu '99, Allyson Yamaki '00, Chris Prone, Tracy Kamikawa '00, Patrick Self '95, and Bryan Horikami '82
One highlight was seeing the beautiful lei-bedecked King Kamehameha statue featured prominently in the Capitol Visitor Center near the entrance to both the ticket desk and the new restaurant. The tour commenced with a 13-minute film, "Out of Many, One," that roused patriotism in each of the graduates who viewed the nation's struggles in establishing a democracy and building the Capitol. From then, the tour proceeded to the magnificent rotunda, where 11 United States Presidents were laid in state. The tour proceeded to two adjacent rooms with a docent sharing humorous trivia about past presidents and members of Congress.
After the tour, participants had lunch at the cafeteria and enjoyed catching up with each other and meeting the newest (and youngest) IMARA member,
Collin Siu
'04. In addition to Siu, IMARA participants included
Wade Ishimoto
'59,
Tracy Kamikawa
'00,
Chris Prone
,
Patrick Self
'95,
Allyson Yamaki
'00,
Craig Nakamatsu
'99,
Alyssa Ellis
'00,
Jenny Hilscher
'89, and
Bryan Horikami
'82.
Door prizes were also given. IMARA wishes to thank 'Iolani School and
Mike Moses
'93 for sending door prizes and 'Iolani key chains.
To get involved with IMARA, check
www.iolanialumni.org
under regional clubs.