This Issue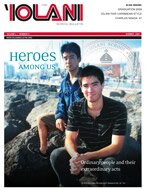 Ordinary people and their extraordinary acts
Read the full story »
Summer 2009 - Feature
Book returned after 34 years
Even if you can't judge a book by its cover, you can judge the integrity of its borrower by whether or not he returns it.
Each day in the 'Iolani Upper School Library, head librarian
Tennye Kohatsu
sees dozens of books returned. This past April, however, she was surprised to receive a package in the mail that contained an 'Iolani library book borrowed 34 years ago.
Head librarian Tennye Kohatsu holds up a letter and book that Chris Hegele '75 mailed to the school 34 years after borrowing the James Bond novel.
"I opened it and read this letter and I laughed," Kohatsu said. "It was so heart warming. You don't get things like this very often as a librarian. It was also National Library Week. It just made me smile."
It turns out that
Chris Hegele
'75, now a teacher at the Denver Academy in Colorado, came across the book,
Ian Fleming
's
Live and Let Die
, during a home organizing project last Thanksgiving. How the book was still in his possession after all these years and at least eight geographic moves since high school is a mystery.
But when Hegele read the library card tucked in the pocket of the book's inside front cover and saw the names of people, one who had passed away, he grew up with, he realized that the book needed to go home to 'Iolani.
"I hope Mrs. Nelson (Mann), Mrs. Tamura, and Mrs. Taam, your predecessors, don't have a heart attack over this and I sure hope the statute of limitations for library fees on this book has run out," Hegele wrote in a letter to Kohatsu.
Kohatsu shared the lost-now-found book with others at 'Iolani. Also impressed by Hegele's good deed was Director of Student Activities
Kirk Uejio
'98, who teaches a leadership class for sophomores. Uejio showed the book to his students, espousing the merits of doing the right thing over doing what's easy.
"Just because it's convenient for you doesn't mean it's the right thing to do," Kirk said to his class. "Returning this book may have been a small thing, but those small things make up your integrity."
Hegele has taught at the Denver Academy for 19 years. He and his wife
Nancy
of 23 years have two daughters,
Rachel
and
Julia
.