This Issue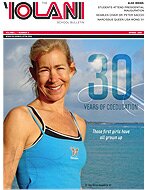 Life was different back then. George Ariyoshi presided as Governor. Kalapana recently released Many Classic Moments. Bobby McGee's was Waikiki's hot spot. And 'Iolani was a school for boys.
Read the full story »
Spring 2009 - Department
| Faculty Profile
Faculty Profile
Audrey Hee

Position:
Admission Office Receptionist/Secretary
Family:
Husband Calvin; sons Nathan, Nelson '92, Nolan '97; grandsons Braden, Jaron and Jason
Pastimes:
Watching Korean dramas, photography, crafting note cards, traveling and visiting family
Years at 'Iolani:
39
On the surface,
Audrey Hee
is a quiet busy bee, diligently working behind her desk in the reception lounge for the Offices of Admission and Institutional Advancement.
Yet beneath the surface, she is a walking encyclopedia of 'Iolani history. This fall, she will celebrate the start of her 40th year at the school.
"'Iolani is my life," Hee said.
Hee joined the staff of 'Iolani in the fall of 1969 as the attendance clerk. She eventually became the secretary in the Admission and College Counseling Offfice under then director
Joseph Yelas
. In 1979 when 'Iolani admitted girls for the first time, that department became two separate offices and Hee moved to the Admission Office under then director
Paul Kennedy
. It was a hard decision because she also enjoyed working under then Director of College Counseling
Dan Feldhaus
. For the past 18 years, she has worked under Director of Admission
Patricia Liu
.
Over the decades, Hee has worked under four 'Iolani headmasters (Rev.
Burton McLean
, Rev.
David Coon
, Captain
Thomas Miller
, and the current Dr.
Val T. Iwashita
'67).
Hee's attention to detail, professionalism and dedication to 'Iolani make her a vital member of the school community.
She is also a friendly face at the reception desk and sometimes the first person to greet visitors on campus. Hee enjoys seeing graduates return and hearing about their families, careers, and pursuits. Interacting with students on campus is also a rewarding part of her day.
In turn, she shares stories about her own family. Her son
Nelson
'92 is a computer technician and is now stationed at Osan Air Force Base in South Korea, and
Nolan
'97 resides in Beaverton, Oregon. Her oldest son
Nathan
(who graduated from St. Louis in 1982) lives in Kailua. She and husband
Calvin
also have three grandsons.
Hee has seen 'Iolani go through many changes over the years, including the transition to coeducation in 1979.
"Watching the students turn into such wonderful young men and women gives me all the joy and satisfaction that we are doing a good job at 'Iolani," Hee noted.