This Issue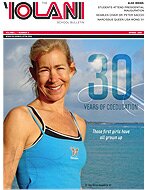 Life was different back then. George Ariyoshi presided as Governor. Kalapana recently released Many Classic Moments. Bobby McGee's was Waikiki's hot spot. And 'Iolani was a school for boys.
Read the full story »
Spring 2009 - Cover Story
A Dream Unleashed Her Surfer Spirit
By Cathy Lee Chong
Cynthia Derosier '83 co-founded He'e Nalu, a surfing and marine biology program for at-risk youths.
(Photo: Pacific Basin Communications).
Cynthia Derosier

Class:
1983
Position:
Art director, author, marketing professional, co-founder He'e Nalu Learning Center
Education:
School of Visual Arts, B.F.A. in art direction and graphic design

Cynthia Derosier
'83 is proof that dreams do come true.
About four years ago, words and images surfaced as she slept. She had learned how to surf, except that the sport had become more than a pastime. Surfing had become part of her.
It began while taking a surf lesson, among tourists on Waikiki. When she stood up for the first time and felt the exhilaration of the ocean's movement, her whole world changed. Her surfer spirit was freed.
So several years after her first wave, one night, she had a dream. Metaphorically, she was waiting for the next swell or gliding through a tube.
"Literally, I dreamt the book," she said. "I went to sleep one night and I kept hearing the words and started seeing the pictures and I couldn't sleep so I got up and wrote it down. Then I realized what I had in front of me was a book. I got goose bumps and just knew I had to publish it."
The Surfer Spirit
was then published in late 2005. This hard bound book fills the spiritual void for anyone wondering why surfers surf.
Her dream spawned the book, which then launched the surfing program.
In 2008, Derosier co-founded the He'e Nalu Learning Center, a non-profit organization dedicated to helping at-risk teens.
Many of the youths have suffered emotional and physical traumas which led to them acting out by running away, abusing drugs, or possibly stealing. Kids sometimes resort to delinquent behavior as a means of survival, Derosier said.
A Family Court judge mandates these troubled teens enroll in He'e Nalu. They meet mentors and surf instructors at Waikiki Beach, taking an ocean dip that will probably make the biggest ripple effect on their lives.
"We guarantee them that they'll catch a wave on the very first day," Derosier said. "Half of them don't believe it. They don't think it's going to happen, but they do catch a wave and they ride it in. And from the looks on their faces, it's a pretty amazing thing. You get them in the water and everything's different. Self esteem goes way up, and they begin to see a whole new set of possibilities for themselves."
Based on the premise that surfing is a philosophy for life, the program opens teens' eyes to changing their circumstances. They find allies and mentors, build self confidence, turn the negativity in their world upside down, and gain a positive perspective. In addition they start to care about the ocean and want to learn more about marine biology.
"We teach the kids that they can't always control what happens in their lives and choose what their choices are, but they do get to choose their actions and reactions," Derosier added. "If they catch the wave and then fall off (their board), they can choose whether or not they're going to get upset or if they're going to learn from it."
After the teens complete the Spirit Sessions Surf program, they have the option to earn college credit at Windward Community College through He'e Nalu's Marine Biology NALU Studies program. At the end of NALU, they participate in a closing ceremony and share their stories. Some return as mentors and instructors themselves.
"I really believe that each of us has a spirit and each of us has something that feeds us, steers us, lights us up," Derosier said. "And if you can find out what that thing is, you can make sure you always nurture it and it will fuel you."
Surfing is a metaphor for life, believes Cythina Derosier '83.
Early in life, Derosier was nurtured and supported. She was a student at Highlands Intermediate in Pearl City when she saw an ad in the newspaper. 'Iolani was accepting girls for the first time.
"I never saw challenges," Derosier reflected on her year as a new 'Iolani ninth grader. "I just saw opportunities to do better, to do well."
From the beginning at 'Iolani, she noticed a high caliber of academic rigor. Students actually raised their hands and answered questions in class. Wanting to go to college was the norm, not an anomaly.
"I remember that all the guys were always so polite and cautious," she said. "For about a month and a half, girls never had to open a door for ourselves. A bunch of us used to hang out in the girls' bathroom. It was the only place on campus where we could open our own doors and not feel like everyone was watching us."
They don't hang out in lavatories any longer, but Derosier and other first girls of 'Iolani are still a tight group. Several classmates are involved with Derosier's current endeavors.
Donna Wong
'83 is Derosier's lifelong friend, a fellow surfer, and co-founder of He'e Nalu.
Melody Kubo
'83 is assisting with fundraising and grant writing.
Pam Omidyar
'85 got involved early on.
After 'Iolani, Derosier went to Washington State University to pursue veterinary medicine. She later discovered her inner artist and wound up at the School of Visual Arts in New York City. She then worked for more than 10 years at Ogilvy & Mather and other top advertising and marketing agencies.
She eventually returned home in 1997 as an art director at Ogilvy & Mather in Honolulu before starting her own business and launching projects which included
The Surfer Spirit
book and the He'e Nalu Learning Center.
Last year, she released her second book,
The Survivor Spirit
, which chronicles 20 women who survived breast cancer and gained empowerment from their journeys. Part of this book's proceeds benefit the High-Risk Breast Cancer Detection and Prevention Program at Kapi'olani Women's Breast Center and the LIVESTRONG Lance Armstrong Foundation.
The Survivor Spirit falls under her recently established Good Juju Company, whose mission is to grow good in the world by linking and contributing to worthwhile non profit organizations.
"I realized what we're doing is spreading good juju," she says.
As well Derosier's dreams are pretty powerful too.
Comments from Readers
Thank you, Cynthia! You are part of the Spirit of life that connects us all.