This Issue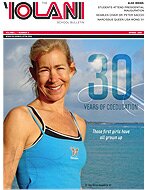 Life was different back then. George Ariyoshi presided as Governor. Kalapana recently released Many Classic Moments. Bobby McGee's was Waikiki's hot spot. And 'Iolani was a school for boys.
Read the full story »
Spring 2009 - Cover Story
Inner Strength Rises for Others
By Mari Taketa
Running brings peace of mind to Harpstrite.
PHOTO BY CLAIRE MOSTELLER '10
Amy Barcia Harpstrite

Class:
1983
Position:
Pediatrician, Castle Medical Center
Education:
University of Santa Clara, B.S. biology; University of Hawaii John A. Burns School of Medicine, M.D.; Kapiolani Medical Center for Women & Children, pediatric residency
Family:
Husband Dr. Kimo Harpstrite; son Joey '11; daughter Kiana '14; daughter Kehau, age 10, fifth grade at Le Jardin
When she runs, the Lanikai sun beating hot on her shoulders,
Amy Barcia Harpstrite
thinks. She's regretting slightly the haste of her morning. The anticipation of five to seven miles of asphalt pounding by beneath her feet is so strong that every day it rushes her through chores and getting her youngest, 10-year-old
Kehau
, off to school.
Today she's even skipped her pre-run stretches. Now she focuses on her joints, running slowly to work out the stiffness. The blue sea winks from between oceanfront houses along the bike path. Harpstrite eases into her stride.
At 44, she's a pediatrician, mother of three, and a tri-athlete in year-round training. She runs for the clarity that frames her thoughts in these moments, and for the strength it gives her body.
"I'm focusing without stress, thinking about different problems—is there something I can do or some way to make things easier for someone," she said. "It's a treat that I get to run as often as I do."
Whether she intended it or not, service to others has grounded her life as much as the sport she loves. Harpstrite started running soon after she entered 'Iolani, following literally in the footsteps of her Army surgeon dad,
Peter Barcia
, and her sister
Kathy Hashimoto
'84. After Peter took up running, Kathy joined him and at 13 became the first girl to win the Kauai Marathon. Before long, all 10 Barcia kids were into running. Harpstrite added on swimming and bicycling and, at 15, finished the first Tinman triathlon.
Dr. Amy Barcia Harpstrite '83 stands on a Lanikai path in Windward Oahu.

PHOTO BY CLAIRE MOSTELLER '10
For her, sports helped ease the transition into 'Iolani. Tall and light-haired, she stood out even among the first small group of girls admitted to the school, and she knew no one except her brother
John Barcia
'81.
"Teachers encouraged me—I had no musical or other skills, but they encouraged me to do different things, so I did art and cross country," she said. "Everyone I was friends with or was on the team with was a guy, and I was treated like one of the guys."
Eventually, younger sister
Roselani
'97 would graduate from an 'Iolani in which the ratio of boys to girls was even.
By the time Harpstrite went on to medical studies, it was clear that she had inherited from her father something far less benign: polycystic kidney disease, a rare congenital disorder. Cysts in the kidneys increasingly crowd out normal function, producing complications ranging from infections to anemia, and eventually, kidney failure. Peter got the gene from his mother. Eight of his children are carriers; four got the disease.
The family rallied as first Peter, then son
Dan
, then John, then Kathy reached end-stage kidney failure. All needed life-saving transplants. Mom
Julie
donated one of her kidneys to Dan. John's wife,
Kate
, donated one to her husband. Kathy got one from a woman who answered a friend's e-mail plea.
Harpstrite knew she was a carrier but had no symptoms until Kehau was born. By 2004 she was in early kidney failure. The following year, anemic and down to only 11 percent kidney function, she had to find a donor.
When no one in the family proved a close enough match, 'Iolani stepped in, putting out calls for help through its networks. Le Jardin and local media did the same. All told, nearly 100 people came forth to be tested as potential donors, but none matched.
Harpstrite had exhausted her options in Hawaii, but there was still hope at Cedars-Sinai Medical Center, where advances in anti-rejection drugs would allow a riskier operation from a less-than-ideal match. The donor would be Harpstrite's brother Anthony '95. He took off from medical school at the University of Hawaii to fly to Los Angeles, where doctors replaced his sister's diseased kidneys with a healthy one from him.
"It was a tough time," said Harpstrite, "but such a nice gift. Everything worked out so well."
The ordeal barely broke her stride. Harpstrite not only went back to working and training, she stepped up her regimen. As a pediatrician, the daughter of a surgeon, and the wife of orthopedic surgeon
Kimo Harpstrite
, she understood that aside from the anti-rejection drugs she would take for the rest of her life, her best defense against complications was a healthy lifestyle.
She understood further that her own children—who have a 50 percent shot at inheriting the disease—would need strong bodies in order to fight it, and that they could gain this by following her. Through three pregnancies and illness, she had never missed a Tinman. With her new kidney working well, she started running or bicycling every day, and 10 weeks after her transplant completed her 26th Tinman. All three Harpstrite kids now run, the older two already outpacing their mom.
The family would need her strength for a new challenge. Last year came the discovery that a rare, aggressive cancer had flared up in Kathy's donated kidney. Harpstrite began splitting her time between her pediatric patients, her own family, and Kathy's family. Along with other caregivers, she takes turns helping around the house and caring for Kathy's two small girls. In December she ran the Honolulu Marathon—which Kathy routinely used to finish in three hours—wearing a sign that read, "In Honor of Kathy Hashimoto," so that regulars would know her sister was there in spirit.
For all the family has been through, "This is our first major crisis," Harpstrite said. "My sister is very positive, and she has great faith. She feels blessed at all the love and support they've been given."
On this day, Harpstrite will head to Kathy's house once her morning routine is done. By the time the bike path wends back into Lanikai and the ocean comes into clear view, she's feeling good. She can feel her mental and physical strength rising with each step. Her head lifts and her face meets the clear sun. She needs that strength to help others.
Mari Taketa is a freelance writer.
Comments from Readers